A potted history
What is an allotment?(http://www.nsalg.org.uk/allotment-info/brief-history-of-allotments/)
Allotments have been in existence for hundreds of years, with evidence pointing back to Anglo-Saxon times. But the system we recognise today has its roots in the Nineteenth Century, when land was given over to the labouring poor for the provision of food growing. This measure was desperately needed thanks to the rapid industrialisation of the country and the lack of a welfare state. In 1908 the Small Holdings and Allotments Act came into force, placing a duty on local authorities to provide sufficient allotments, according to demand. However it wasn't until the end of the First World War that land was made available to all, primarily as a way of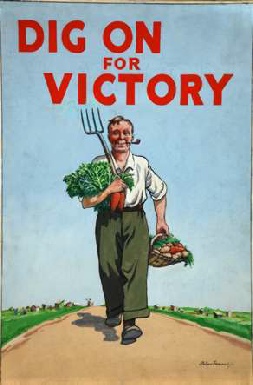 assisting returning service men (Land Settlement Facilities Act 1919) instead of just the labouring poor. The rights of allotment holders were strengthened through the Allotments Acts of 1922, but the most important change can be found in the Allotments Act of 1925 which established statutory allotments which local authorities could not sell off or covert without Ministerial consent, known as Section 8 Orders. Further legislation has been listed over the intervening years which have affected allotments, the latest of which is the Localism Act 2012.
Totton Allotments and Gardens Association
The Totton Allotments and Gardens Association was formed towards the end of the second world war, by a number of keen gardeners as part of the Dig for Victory campaign. This allowed them to take advantage of a scheme operated by the wartime coalition government, to enable the purchase of subsidised fertilizers and soil conditioners such as lime.
A small tin shed was erected on the Water Lane site and was used as a store hut. Members were then able to purchase fertilisers and gardening products as needed from this store.
In 1960, Totton Town Council erected a concrete shed at the Water Lane site, and the Association shop carried on trading from it until 1993, when the council erected a larger store hut, which we are still trading from today.